Question: "My family has the opportunity to get on a deer lease in Atascosa County. We are not very familiar with this part of Texas, but hear that the whitetail deer hunting can be good down there. We currently live in Austin and are trying to decide if this lease could be a good deal for us, or if we should keep looking in the Hill Country. Would you happen to know how the deer hunting in the Atascosa County fairs compared to other parts of Texas? Thanks for your time."
Deer Hunting Pros: One of my uncles lives in Atascosa County and has about 65 acres of land. Like any area, the hunting on any particular property depends on the habitat, the land management practices and the local deer population. If the deer lease you are considering is anything like my unlce's place then the whitetail hunting should be really good. If you have a creek or draw running through your lease then it will be even better.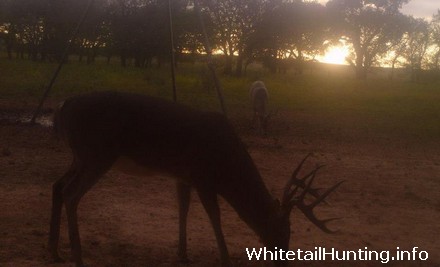 A friend hunting near the town of Pleasanton said the deer rut this year started around the first week of December. He said the bucks were running does hard and he saw more bucks than usual, so the deer must have been very active. But he also said he picked up a lot more bucks on game camera at his lease during the archery season. Saw more bucks in October while deer hunting as well.
That all changed in his part of Atascosa County shortly after the gun season started. The bucks then went into nighttime moving and feeding patterns. That could have been the result of neighboring properties though. Intense hunting pressure can cause deer movement patterns to change. Pay attention to the size of the neighboring properties where you are thinking about leasing. Larger tracts are more desirable, but small tracts can be okay too if they don't appear to be heavily hunted. Ask the landowner or even stop in and talk to the neighbors.
Like any ranch in South Texas, deer hunting in Atascosa County can vary from year to year. Some years are better for reproduction and deer foods, some are better for attracting deer to feeders. My friend that hunts there said he observed only a few acorns this year, mostly along a creek bottom. The oak trees located in more upland habitat had zero acorns. This was one of the reasons he was surprised that deer movement and hunting slowed down during the gun season.
In closing, you may be entertaining this Atascosa County deer lease for whitetail, but there are other animals found down there that are fun to hunt too. Feral hog numbers can range from moderate to high depending on the area, so you could have some bonus hog hunting during the whitetail hunting season or even during the off season. Many deer hunters dislike hogs because they compete around the feeders. I do too, but will not hesitate to shoot one and enjoy it on the pit. In addition, Rio Grande turkey numbers can be outstanding in many parts of the county, which could offer great spring turkey hunting action.