Question: I go whitetail deer hunting at our place in Montague County, Texas. This past year it has been difficult to see whitetail deer. I had not been there, other than to feed my cows in about a month. We have a total of 3 feeders that we keep running throughout the year. Although very few deer have been spotted over the season, yesterday was calm and cool, and there was no corn on the ground.
The deer feeders go off in the morning and evening and no deer come in before dark. It seems they are eating at night. I guess I'm going to have to put my cameras back out and see what's going on out there. We have only a handful of oak trees (Live oak and Texas oak) on our 600 acre ranch. I know the deer are there because we see their tracks everywhere, but it has been a very odd year. Any thoughts on why whitetail hunting has been tough in Montague County?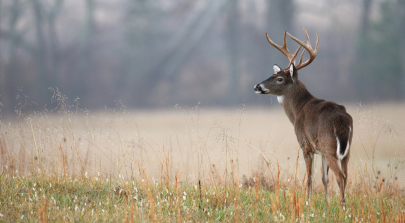 Answer: Good question, but hopefully you will find it somewhat comforting that you were not alone this past deer hunting season. As it turns out, hunters all around the state were having trouble finding deer, especially bucks. So Montague County was not the only piece of real estate where the deer were laying low.
It seems the great habitat conditions allowed deer to make it most, if not all, of the season without having to visit deer feeders. And many hunters said that when deer did come tot the feeders, their game camera photos let them know that they were visiting at night. Let's face it, deer feeders are great for hunting whitetail deer when the deer are hungry, but the truth of the matter is that they prefer natural plants more than corn.
In short, blame the abundance of food on the lack of deer movement. I know you do not have many oak trees, but the falls rains across Texas allowed an abundance of forbs. In addition, whitetail deer were in great shape throughout the year, except in very late summer. The spring was amazing with rainfall allowing deer to really pack it on. Then it rained more in the fall. Deer just did not have to move until very late in the season thanks to great habitat. And by the time it's late in the season, deer are tough to hunt anyway. It's a tough pill to swallow, but I suspect whitetail hunting will be outstanding next year due to the lack of harvest this season.