Every deer hunter dreams of a big Ohio buck, but when Jason McClintic bought his Ross County farm for whitetail deer hunting he never thought he'd stick an arrow into a true-to-life brute. Ohio has produced its share of monster bucks over the years, but knowing where to hunt always helps when it comes to putting a deer on the ground. McClintic's land really is typical southern Ohio deer country. Prime deer country.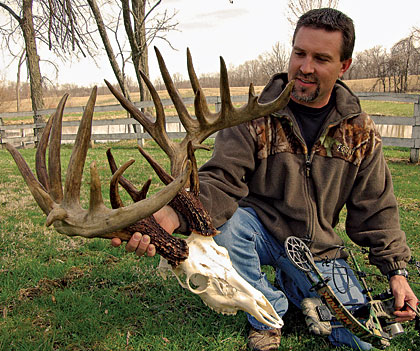 The landscape consists of rolling croplands of corn and beans surrounded by hillsides of maple, pin oak, chestnut oak and thick second-growth timber. Deer hunting property does not get any better than that. The hunter had used game cameras to document several good deer on his property — some good 140-class 8 point deer as well as a 170-class 10 point buck. — but had a hard time getting on those deer. One evening, he finally saw the big 10 point buck, but he missed the deer — just like he did in 2009.
McClintic said after that he just was not seeing any deer while out whitetail hunting. Everything seemed to have left. As a result of his frustration he hung up his bow and stayed out of the woods. Everything had turned sour. Several weeks went by and McClintic's urge to hunt returned. That evening, after returning home from work, he grabbed his bow and headed to an old stand he rarely used. After not being in the stand 10 minutes, a doe followed by this huge non-typical buck walked to within 25 yards. This time he made the shot, but never had a game camera picture of this massive buck.