The state of Michigan is known for great whitetail hunting as well as being home to some huge whitetail bucks, both typical and non-typical. And no one knows that better than hunter Ron Waldron of Ann Arbor, Michigan. He may have been a whitetail deer hunter most of his life, but the biggest one he has after put his hands on is one he didn't even shoot. And by big, I mean this Lenawee County is a BIG BUCK! It is the highest-scoring non-typical buck on record for the state of Michigan.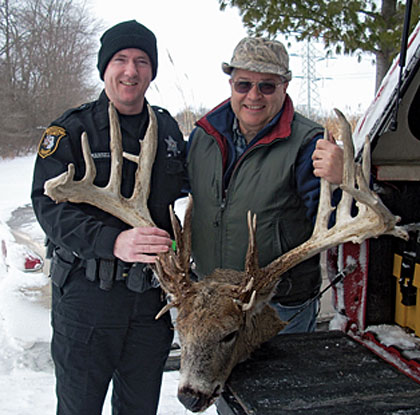 As it turns out, the biggest Michigan non-typical record buck died of unknown causes about a month after the end of the last deer season — in 2009. Waldron's friend, who owned some property, found the deer dead and thought it was good sized. She called Waldron, knowing that he was a deer hunter. He came over and knew that this dead deer was in fact a buck of monster proportions. An official Boone and Crockett scorer measured the the 26 point buck at 257 1/8 gross inches, and the deer netted 246 2/8.
The Michigan non-typical record buck's beams measured about 31 inches in length and had an inside spread of 28 5/8 inches! Even though whitetail hunting in Michigan is quite popular, no hunters have come forward to saw that they ever saw this deer. In addition, even months after the buck was discovered, no one hunters come forward with any game camera photos of the buck. It seems this old buck lived and died under the radar, only being found once he died.