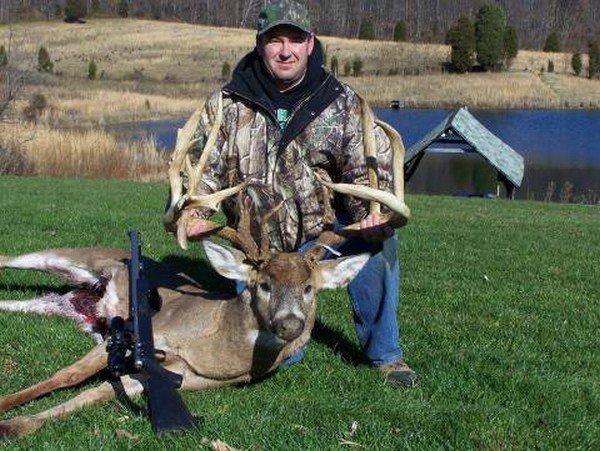 Hunter Brian Stephens harvest a true Ohio monster buck this season and it may hold the record for the the longest two beams ever recorded on a white-tailed deer. You can definitely say his whitetail hunting season started off with a bang! On November 30th, the opening day of Ohio's gun season, the hunter dropped this big 18-point buck at 80 yards with his .50 caliber T/C muzzleloader.
The enormous buck looks should blow away Ohio's non-typical muzzleloader record and will almost certainly set the new mark for the largest whitetail main beam antler length. The photos of this animal are absolutely astonishing, and the mass this buck carries throughout his frame is the stuff that dreams are made of. The big Ohio bruiser green scored 232 5/8 Boone and Crockett inches.
Here is what the hunter stated after dropping this giant buck:
"While the other guys were still hunting, I got the buck with my truck and put a tarp over it to surprise them when they got back. The second my Dad came back from whitetail hunting in and saw the tarp he said, 'Let me guess. You killed a coyote at 1 pm.' I lifted up the tarp and I can't tell you what he said exactly, but let's just say he was bowled over. Honestly, the look on his face made the whole hunt for me.

It's been pretty chaotic ever since. At the check-in station, somebody saw the buck and yelled 'Oh my God, it's a giant!' Next thing I knew, I was surrounded by people and getting my picture taken with complete strangers and my big buck. Heading home the next day, people were beeping, waving, giving me thumbs up."
Yep, thumbs up!