Question: "We live in North Texas but deer hunt in Oklahoma. We've hunted this property for two years now and want to enhance the deer herd and improve antler growth. If we can not feed protein pellets then what can we place out on the property right now during late winter that supports and improves buck antler growth? Can food plots work? Looking to grow bigger bucks and does."
Whitetail Hunting: Okay, the only thing you can do right now is feed the deer on your property. If you can not or do not want to feed protein pellets then you will have to turn to some other food stuff, such as corn, soybeans or whole cottonseed. Late winter is tough on deer. Although deer begin antler growth during the spring, a buck's body condition in late winter is going to really impact antler growth later that year. It's a good idea to put some type of high protein and high fat food out there as soon as possible.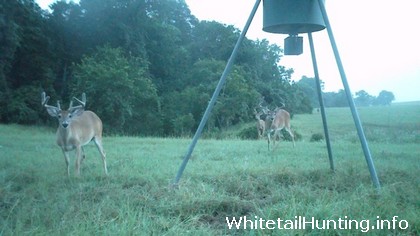 Food Plots for Hunting, Maintaining Body Condition
For the coming whitetail season, you may want to consider a deer food plot. For the area you hunt, I would recommend a plot planted in early September that consist of 30 percent oats, 60 percent wheat, and 10 percent turnips. Mature bucks in your area will use the seed mix found in this plot heavily, and it will work throughout the hunting season and through late winter.
The oats should live until a good freeze kills them off. You could remove the oats from the mix, but it will not be as good. Deer love oats! The wheat is much more hearty and will persist through the winter and mature in late spring. This also hold true for the turnips in the food plot, which you can then manipulate to prepare for the following year.
If the wheat and turnips are still standing the fall after planing, lightly disk the food plot and this will ensure that the seeds found on dead plants and in the area will be planted. Then just throw out some additional oat seed and your deer food plot will be ready to roll again.
Food Plot Seed and Fertilizer Costs
Oat seed are about $20 and wheat seeds are about $15 for a 50 pound bag. Turnips are very inexpensive. A seed costs of about $150 should allow you to plant a nice food plot on your Oklahoma deer hunting grounds. You can improve the performance of the plants in your plot by adding fertilizer too. Fertilizer costs bout $13 for 50 pound at your local feed store.
In short, for a cost of about $250 you can plant a great fall food plot that will not only hold deer on your property and make for better whitetail hunting, but the additional forage will improve late winter body condition of all the deer in the area and lead to improve antler growth the following spring and summer. This will mean bigger bucks in your scope during the deer hunting season. Go with supplemental feeding of deer in the meantime. I'd suggest protein pellets, but whole cottonseed is great at this time of year if you can get it.